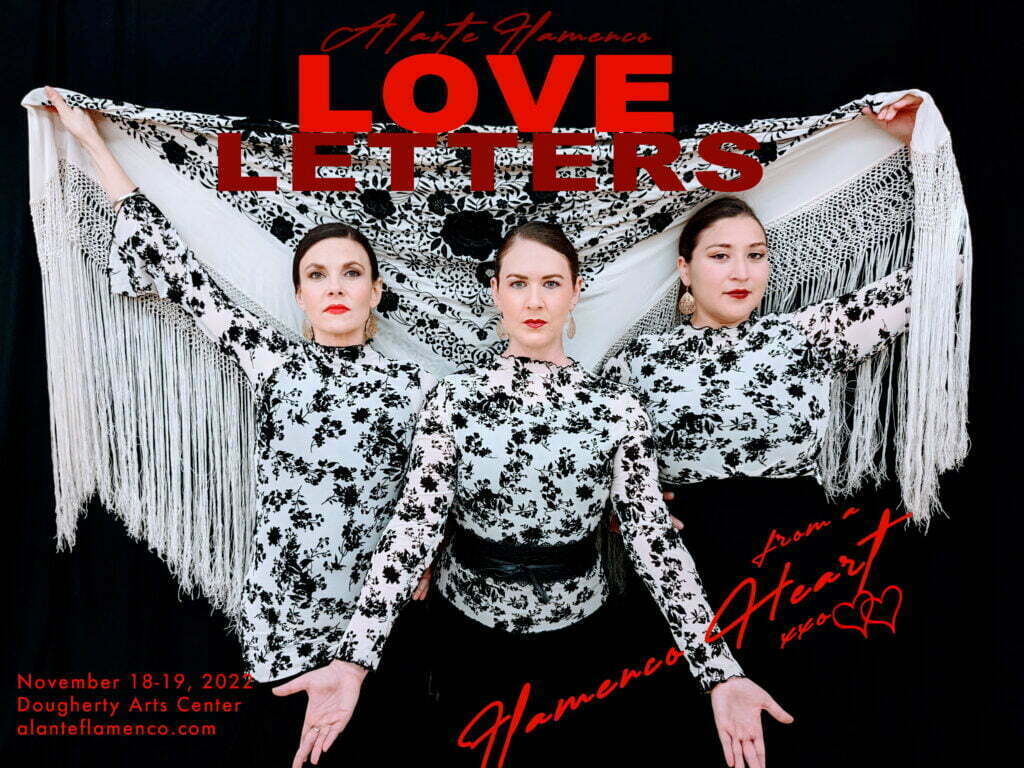 There are as many different interpretations of flamenco as there are ways of loving in the world. We can sing and dance passionately, with great suffering, or quietly, with longing and nostalgia. We can play the guitar slowly, savoring every note, or thump it mercilessly in a rhythmic explosion. We can hear the beat of the hands and feet as an unrelenting, headlong sprint in pursuit of….what? Life? Death? Or get lost in the exquisite silences between notes that seem to expand to encompass a whole landscape: the place where, as the poet Rumi says, "lover, loving, and beloved are one."
"Love Letters from a Flamenco Heart" is not only a love letter to flamenco, but also an exploration of the different ways of loving. Always intensely personal, and never the same experience twice.
Alante Flamenco is part of the Artist Access Program, through the City of Austin's Parks and Department, Division of Museums and Cultural Programs, and the Dougherty Arts Center. This project is supported in part by the Cultural Arts Division of the City of Austin Economic Development Department.
A'lante Flamenco Cast:
Music Director, Guitar/Vocals: Isai Chacon
Vocals: Celia Corrales Sellers
Percussion: Anthony Hampton
Guitar: Jose Manuel Tejeda
Artistic Director, Choreographer, Dancer: Olivia Chacon
Dancer: Sofia Hurtado
Dancer: Claire Spera
Lighting Design: Jonathan Sikora
Program:
Love Letter to Flamenco (por Málaga)
Malagueñas, Verdiales, and Rondeña
Suspicious Minds (Jealous Love)
Tangos de Morente, Tientos, and Tangos de Granada
Soloist: Sofia Hurtado
Alone Together (Solos en Compañia)
Soleares
Isai Chacon and Jose Manuel Tejeda
Love Lost (And Then Regained, But Now It's Different)
Petenera Two Ways
Soloist: Claire Spera
Latin Lovers
A'lante Flamenco Musicians
With a Little Help From My Friends (Agape Love)
Performed by The Company
Lo Bueno y Lo Malo (Through Good and Bad)
I Heart Flamenco: Love Letter to Flamenco Part 2 (por Cádiz)
Cantiñas
Soloist: Olivia Chacon
Thank you to all our volunteers, supporters, friends, and family-we couldn't do this without you! And special thanks to the Dougherty Artist Access Program, the City of Austin, and the Texas Commission on the Arts.