Juana: First (I) Dream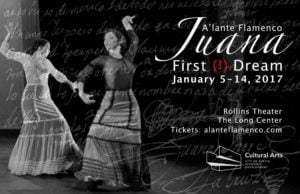 As six voices fill the air with transcendent music, a lone female dancer beats staccato rhythms with her feet. Brilliant, determined, defiant—this is Sor Juana Ines de la Cruz, 17th century Mexican nun, scholar, writer and advocate for women's education. 
A'lante Flamenco brings Juana and her world to life through fiery Flamenco guitar, vocals, and dance, with the voices of the Texas Early Music Project adding Baroque choral works from Juana's era. Juana: First (I) Dream is inspired by Sor Juana's lifelong fight for knowledge, independence, and scholarship. Be prepared for a totally unique and immersive experience!  January 5-7 & 12-14, 2018. Tickets at thelongcenter.org.
This project is supported in part by the Cultural Arts Division of the City of Austin Economic Development Department.

Sabor Flamenco
The smell of sizzling garlic, the earthy taste of red wine—now add the sounds of rapid-fire hand clapping, feet pounding the floor, and guitars strumming to the plaintive sounds of flamenco singing. Expect all those sensory treats and more in A'lante Flamenco's newest work, Sabor Flamenco, at the Long Center June 30-July 2.
Snapshots: New World Flamenco
A'lante Flamenco, named "Best Dance Ensemble" by the Austin Critics' Table in both 2014 and 2015, offers three distinctive views of flamenco in Snapshots: New World Flamenco, June 23-26 at the Rollins Theater. The production features work by two guest flamenco choreographers, Karen Lugo and Miguel Vargas, as well as Artistic Director Olivia Chacón, each hailing from the Americas and offering very personal glimpses into their outsider experiences of the Spanish art form. Interpreted by A'lante Flamenco's 5 musicians and 6 dancers, Snapshot juxtaposes images of introspection, social commentary, politics, pain, and humor in a uniquely creative and exciting flamenco show. For tickets click here. 

Desplazados
A'lante Flamenco takes a very personal look at immigration and gentrification in this intimate and theatrical flamenco experience. Skirts fly, heels stamp, guitars strum and voices wail as the company's five dancers and five musicians bare their souls. Audience participation is encouraged (hint: bring your dancing shoes)! A portion of the proceeds from ticket sales will be donated to a refugee or relief organization, to be chosen by the audience. ONE PERFORMANCE ONLY
Sunday October 11 2015 3pm
Tickets $23 at www.alanteflamenco.com/tickets
 Quintaesencia
A'lante Flamenco's dancers and musicians evoke the four elements–air, water, earth, and fire–while adding their own fifth element–passion! Quintaesencia is a sensory extravaganza offered exclusively for Luminaria, San Antonio's outdoor art festival October 23 & 24. Stage 1 (in front of San Antonio Museum of Art), 7:15pm each night. luminariasa.org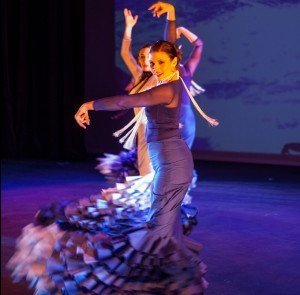 The Red Shoes: A Flamenco Fairytale
Live the dream…until it becomes a nightmare!
A'lante Flamenco Dance proudly presents "The Red Shoes: A Flamenco Fairytale," an innovative new flamenco interpretation of the deliciously dark fable by Hans Christian Andersen. With choreography by Olivia Chacón and live music directed by Isaí Chacón, the production explores the attractions and dangers of giving in to temptation. Once the world of control and reason is left behind to embrace ecstasy, chaos takes over…  "The Red Shoes" was nominated for the "Best Short Work" award by the Austin Critics' Table, and earned Olivia Chacon the award for "Best Dancer."
May 7th 2016 3pm
Prophecies
"Prophecies" is the newest creation by the artists of A'lante. Inspired by the prose poetry of Khalil Gibran, whose book "The Prophet" has captured readers' imaginations since 1923, A'lante's work imagines a mythical dialogue with Gibran's fictional prophet, using centuries-old flamenco music and dance as a common idiom. "Prophecies" invites audiences to consider the role of tradition in our 21stcentury digital society, while digging into the very roots of the flamenco art form to unearth a new creation. "Prophecies" earned A'lante Flamenco the Austin Critics' Table Award for Best Dance Ensemble in 2014.
Flamencura
"Flamencura" transports audiences into a traditional Spanish flamenco club, where performers show off their skills with fire and passion. Best suited for smaller venues, this production features 6-8 performers. "Flamencura" is a highly adaptable program.

Dark Sounds
The distinctive "sonidos negros" (dark sounds) that characterize flamenco music provide the inspiration for this suite of dances that embrace tradition while tweaking the typical. Be prepared for a new vision of flamenco!
Videos:
"Prophecies"

"The Red Shoes: A Flamenco Fairytale"